Prince Charming (Jun 2005)
Matthew Macfadyen, currently appearing as the heir to Henry IV's throne at the National Theatre, is next in line for British big-star status. Daisy Garnett meets an actor determined to confine his dazzling to his performances
Matthew Macfadyen, who is playing Prince Hal in Henry IV, Parts I and II, at the National Theatre, does not give much away when you meet him. He is an actor's actor, a director's actor - not flashy at all, with no crowd-pleasing floppiness of hair, no self-deprecating mumbles or flashing eyes, no calculated charm. Not a Hugh Grant or Jude Law then. Not a Colin Firth.
Macfadyen with Michael Gambon in King Henry IV: 'his performance is suspenseful and moving'
And yet the comparisons will be made, because although Macfadyen is doing what he has successfully done for 12 years, since he was 18, his career, meanwhile, is undergoing a transformation. He is on the cusp of going from being a really good, well-respected actor, to becoming a Leading Man. A star.
You may be familiar with Macfadyen from his role as MI5 agent Tom Quinn in the BBC series Spooks. The series brought him tabloid fame, too. He met his now wife, the actress Keeley Hawes, on set; they were photographed in an embrace. The problem was, at the time she was married to someone else, with whom she had a young son. 'It was messy,' he says, 'but now it's fine.'
Even so, he has not yet been high on any collective radar. When people ask who he is and why I am writing about him, the quickest and easiest shortcut is to say that he recently finished filming Working Title's Pride and Prejudice, which will be released later this year.
He is playing Darcy opposite Keira Knightley's Elizabeth Bennet. People nod when they learn that. Everyone understands that Darcy is a part that makes a national name out of you.
In fact this piece was prompted by another film and Macfadyen's performance in it: a startling piece of work called In My Father's Den by a first-time director from New Zealand called Brad McGann (that's another name to remember, by the way). Macfadyen is mesmerising, but more than that, he is memorable - properly so. The roles of Darcy and Prince Hal may be iconic, but it is as Paul Prior, a war-zone photojournalist in In My Father's Den, that Macfadyen delivers - and I don't say this lightly - an iconic performance.
The action follows Paul Prior's return to New Zealand for the first time since leaving as a teenager, for his father's funeral. The film is about the relationships he abandoned when he left - with his father, his brother, his teenage girlfriend - and now has to confront, and about an important relationship he develops, almost in spite of himself, with a schoolgirl, with whom he clearly feels an intense, though not sexual, connection.
The drama, for the first half of the film, is created by Paul's unwillingness to engage with anyone. He doesn't talk much, doesn't reveal his feelings, pushes people away, doesn't care if he is liked - not exactly material, then, that most actors jump at. And yet Macfadyen remains intriguing in the film, and more importantly, interesting. Certainly attractive.
Macfadyen in life, however, at the stage door of the National Theatre, looks quite different to Macfadyen on screen or, indeed, in the many posters for Henry IV. On screen he looks handsome and pulled together and fully formed. In real life he looks younger, and frankly, a bit of a mess - nice looking, but a bit soft and squishy and spotty - sort of like any average harried Londoner with room for improvement on a busy working day.
A million miles away from heartthrob material. Macfadyen is, after all, working on a marathon scale when we meet. Previews of the Henrys have started, but because the show hasn't officially opened yet, the company is still meeting to rehearse and fine-tune during the day, then perform at night.
days when there is both a matinee and an evening performance, Macfadyen is on and off stage for more than six hours without much of a break. Plus he and Hawes have a five-month-old baby, Maggie, as well as Hawes's four-year-old son, Miles, from her previous marriage.
'I do feel quite tired,' Macfadyen says quietly when I ask how he is. It is a sunny day and we are drinking coffee in the cafe in the National's courtyard. 'But it's such a buzz. It's so exciting,' he continues, looking around. There are people clearly having work meetings and discussions at tables around us. Others are reading intently. This is the National Theatre. Shakespeare. Tiredness? Macfadyen is working with Nicholas Hytner and Michael Gambon. What matter tiredness?
Anyway, he doesn't seem like a complainer. In fact he is so unassuming, so modest in his manner, so lacking in bombast, that at first he doesn't seem like anything at all except a likable, rather ordinary man. I have been told that he is guarded and press shy, what with the tabloids having taken such prurient interest in his love life, but he doesn't seem guarded (in fact he is quick to show me a photograph of Maggie and he refers to Hawes frequently), he just seems nice and enthusiastic and unpretentious and undazzling.
'If you love acting, then to be able to work is such a treat,' he says. 'I know so many actors who don't get the opportunity. And it's not something you can do on your own, so when it's rotten, it's rotten. So it's so thrilling…' he trails off and gestures around him. Macfadyen trails off in his speech quite a lot. 'I remember coming here on school trips and getting pissed and I'd think, God maybe, maybe…' He trails off again.
There was never much of a maybe. Macfadyen's acting cv is exemplary. His father worked in the oil business, but his mother was an actress and drama teacher, so it wasn't a craft that he was unfamiliar with. He loved acting at school (though the family moved around a lot and lived for a time in the Far East, Macfadyen was educated in England, mostly at a boarding school in Rutland), and while he was doing his A-levels, he won a place at Rada.
'I just adored acting,' he tells me - he says this quietly and with a shrug, rather than with any luvvie archness - 'and it all happened with alarming ease really.' He shrugs again apologetically. 'Well, not ease, but you feel guilty if it feels like you're winging it. When I got into Rada it was the most glorious feeling because you think that's my life solved, because at that age three years seems for ever
ask him what he did for his audition. 'A bit of Henry V,' he says. 'The Ken Branagh film was out at the same time, so thought I'd do that. I think I did some Pinter for the modern monologue. And you have to do a song. I did a Queen song.'
I give him a hard look. It doesn't sound possible. Macfadyen is so very un-Freddie Mercury. 'It sounds worse than it was,' he says laughing. 'It was a camp version of an old-fashioned song: "Lazing on a Sunday afternoon…" ' he sings without a hint of self-consciousness.
After Rada he worked constantly, consistently landing enviable jobs. At his first audition out of drama school he landed a part in a touring production of The Duchess of Malfi by the acclaimed theatre company Cheek by Jowl. After that he went on a world tour with the RSC's A Midsummer Night's Dream, then went back to Cheek by Jowl to play Benedick in Much Ado About Nothing.
He followed that up with fabulous television work - a career-making part in the 1999 feature-length drama Warriors (about soldiers on the UN's peacekeeping mission to Bosnia in 1992, and the atrocities they witnessed), and then a lead role in Stephen Poliakoff's memorable family drama Perfect Strangers in 2001.
After that came a part in Peter Kosminsky's The Project and, of course, Spooks. Now he is at the National, has a starring role in a major Working Title film, and the lead role in a foreign arthouse movie that is destined to have a huge following. Not bad for winging it.
Was he nervous about having to carry a film while playing someone who only wants to back away? 'A wee bit,' Macfadyen says. 'But there is something quite exciting about being the lead. You can't help but relax because you're on every day. Things start to take care of themselves after a bit. And when I read the script I felt quite quickly that I knew what Paul was about.'
This is what Macfadyen is like: he's not one for big statements or posturing, preferring to say less and pepper his talk with ellipses, but sometimes between the dots he is actually wonderfully, slyly revealing. He gives you, in a phrase, access to certain usually unspoken secrets. No one talks about acting getting easier if your part is bigger and more complex, for example - whatever the truth of it.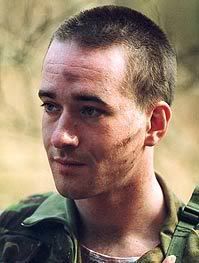 In Warriors: 'his acting is so authentic - he's the type you really want to watch for two hours'
Similarly, when I ask him about working with Gambon, he says, 'He's lovely. He's very easy to be with. He's just glorious.' The standard stuff, in other words. Then he pauses and says quietly something true: 'I still don't know what to say to him, really.' That I can imagine.
When we talk about his personal life, and I ask him what it's like to be married, he crinkles his brow and says, 'It's lovely.' Then he leans in and says, with intent, 'It's very sexy being married.
I never thought it would be like that, but it is.' That's when you get a flash of Macfadyen's magic - the stuff he pulls out of his sleeve when he is acting - this intimate, confident sincerity that is absolutely uncloying and un-needy.
'Matthew has a sensitivity and a thoughtfulness that is almost immediate on meeting him,' says Brad McGann, the director of In My Father's Den. 'There is something going on behind the eyes that isn't feigned or acted, it's real.
"His acting is so authentic - he's the type of actor you really want to watch for two hours and that's the reaction I've had from nearly everyone I've spoken to about him.' McGann is right. You can watch Macfadyen for hours. His performance as Prince Hal is suspenseful and moving - you feel you are watching a young man in the actual process of great and difficult change.
Likewise, he says, he feels for Darcy, not playing him as an arrogant stiff who softens with love, but as a complicated young man struggling with huge responsibilities (his parents have died; he has inherited, at 28, a house and estate and responsibility for an entire community of workers), whose awkwardness occasionally becomes crass. 'It's a wonderful part,' he says.
I didn't see Colin Firth's Darcy or Olivier's, so I didn't think of it as an iconic part. I just really felt for Darcy himself. He's got that adolescent quality of when you think really deeply but sometimes behave callously.' He shrugs again. 'I'm sure the knives will be out for me playing him. I bet loads of actors passed on it for that reason.'
Did they? I ask the film's director, Joe Wright. Wright laughs. 'Matthew was the first person I thought of when I read the script,' he says. 'I think he's the best actor of his generation. We had to do a worldwide search, because we couldn't leave any stone unturned in case there was a better Darcy. But there wasn't. There aren't many young male actors who have clout and sex appeal and yet aren't afraid of not being liked.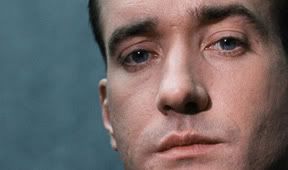 "He's unlikable at first, Darcy, and most actors are terrified of not being liked - not Matthew. And yet he has an openness that allows you to fall in love with him.' I know what Wright means. When Macfadyen told me that being married was sexy, I wanted, for that instant, to be married to him. I believed exactly what he said. But then he slipped away again, gave me niceties and trailings-off.
But that's the point of Macfadyen: he's all actor, and although he may be about to become a star, being dazzling off the stage and away from the screen is not his trade. 'The thing that is attractive about acting is that the curtain comes down,' he says, and as he talks he begins to light up.
'The point of being an actor,' he continues with great conviction, 'the whole idea of being an actor is that people don't know who you are.' He pauses and begins to become invisible again. 'If they know who you are you can't do it,' he says simply. 'You're f***ed.'
Login to post comments

22791 reads